What to Expect from Executive Coaching
Posted Wednesday, September 12, 2012
Allen Slade
Promising athletes who want to reach the top almost always have a coach. When they reach the highest level of competition – the Olympics, the NFL, the World Cup, the PGA/LPGA – coaching is even more important.
Coaching is valuable for leaders also. Leadership coaching increases your ability to achieve results, build healthy relationships and stretch into your best self as a leader. Leadership coaching is better than training or mentoring at developing leaders. To get to the top of any field – executive management or professional golf – is hard. To stay on top is even harder. If leadership coaching is good early in your career, then executive coaching is absolutely necessary to stay at the top.
Executive coaching builds on leadership coaching in many ways. Executive coaches help you continue to polish your leadership skills while they help you build skills in strategic thinking and leading from a distance.
Strategic thinking is the seeing the big picture of organizational success. As an executive, you must be look for dynamic systems and complex interactions. You cannot master only functional strategy. You must have a general management perspective that integrates all functions – operations, marketing, finance and people – to create bottom line success. You must grow the business: competitive strategy to maximize your market positions and corporate strategy to manage your mix of businesses. You may have had a business class with business growth strategy models like this: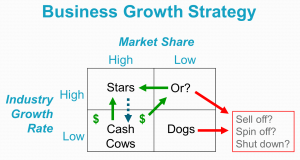 I have taught strategy (using diagrams like this). I have also managed strategy. Trust me, strategy is more complicated in practice than in the classroom.  An executive coach can be your thinking partner as you stretch into new levels of strategy formulation, implementation and evaluation.
Leading from a distance is the ability to lead with or without substantial personal contact. As an executive, you may have mastered interpersonal leadership, but now you must also be influential with people you hardly know. Leading from a distance requires broadcast communication skills like speeches, all-hands email and other mass communication. With hundreds or thousands of employees, you must also become expert at listening at a distance – getting upward feedback from the managers who work for you, from employee surveys and from town hall meetings. Executives may also need to move beyond interpersonal leadership presence to true charisma. A coach can help you jumpstart your broadcast communication, feedback and charisma.  
An executive is a competent leader, and more. An executive coach should be a competent leadership coach, and more. An executive coach should have a proven track record as a leadership coach (including accreditation by the International Coach Federation), real-world strategy experience and facility with large group communication and feedback. Executive coaches should have experience as an executive or C-suite consultant. They may have graduate education in strategy or organizational psychology.
Being at the top can be lonely. Executives stand out from the pack in performance, but they also stand out because they have passed by their peers and almost all potential mentors. As the CEO, you truly have no peers in your organization. Your board has to balance helping you succeed with its fiduciary responsibility to evaluate your performance. An executive coach is a safe partner to discuss your strenghts and weaknesses. Your coach can help you turn your failures and shortcomings into learning opportunities without imposing judgement on you.
Chemistry between you and your executive coach is important. I recommend working with a firm that has a stable of proven executive coaches. Then, if you and your coach do not have the right chemistry, there are other coaches who can step in to give you the help you deserve. At Slade & Associates, we have a range of coaches, including our own associates and executive coaches at Healthy Companies International.
As an executive, you should have experts to help you maximize the financial and operational performance of your organization. You should also have an expert to maximize your own performance. If you need an executive coach, get one.  If you have an executive coach already, throw yourself into improving your executive performance. If the chemistry with your executive coach is not right, get the executive coach that fits your needs. Do whatever it takes to get the coaching you need to stay at the top of your game.
Leave a Reply