Jobseekers, Brand Yourself as a Servant
Posted Thursday, November 15, 2012
Allen Slade
 In cover letters, resumes and interviews, jobseekers often give reasons that they want or need a job. "I am seeking a rewarding career in . . . ." "I enjoy . . . ." "I would like to apply for your opening in . . . ." "I am reentering the workforce after . . . ." While these phrases are not illegal, immoral or ungrammatical, they are a bit self-centered.
Career success does not flow from your needs alone. You will be hired to serve, not to be served. You will succeed when your interests and abilities line up with the organization's needs. The sweet spot for your career is when ability, affinity and opportunity meet.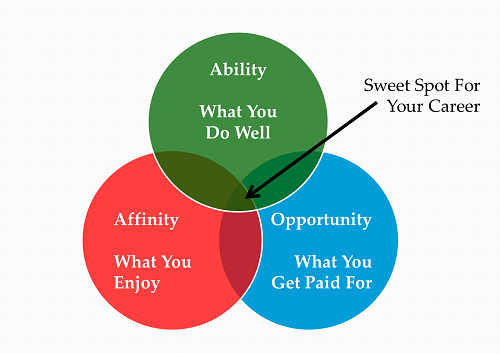 Hiring manager focus on the intersection of the green and blue circles. For hiring managers, affinity is a lesser priority than your ability to do the job. They want your competencies, capacities and commitments to solve their problems.
So, how do you shape a hiring manager's perception of your ability to do the job? Managers quickly form an impression who you based on incomplete information. As I posted in The Problem with Your Personal Brand:
When you walk through the door, who shows up for the other people in the room? What image do people have of you? When I walk in, I would like to think that the "real" me shows up. Unfortunately, who actually shows up is an imperfect memory of me. . . . If only a partial image of the "real" you shows up when you walk in the room, you need a brand and a plan. You need a personal brand statement like this:
For [a specific person or group], I want to be known for [six adjectives] so I can deliver [valuable outcomes].
Bottom line: When seeking a job, brand youself as a servant. Hiring managers care about your ability to deliver valuable outcomes.
I advise my career coaching clients to take three steps before every job application:
1. Research. Investiage every job thoroughly before you apply. Go beyond studying the industry and the position itself. Figure out  what problems keep the hiring manager awake at night.
2. Target your brand. Figure out the six adjectives that accurately describe your competencies, capacities and commitments to help solve those problems.
3. Articulate your brand. Then, craft your application and your interview responses to give a powerful brand message: Hire me and I will help solve your problems.
If you take these three steps, the hiring manager will be favorably inclined to pursue you as a candidate. And, you are likely to get the career outcomes you seek – meaningful work, concrete rewards, an opportunity to grow – because you are serving the organization well.
Leave a Reply