Leading with Goals
Posted Tuesday, February 5, 2013
Allen Slade
Goal setting should be one of the most useful tools in your leader's tool box. Goals can drive intelligent dialogue about performance with your employees, leading to greater success and satisfaction for your employees and your organization. Here are some ways you can use goals to lead more effectively.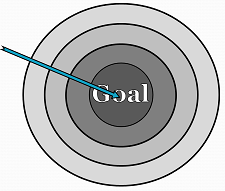 Use goals to set a benchmark for performance. A goal setting conversation should kick off the performance planning cycle – the what, when and how of performance. Help your employees set SMART goals: specific, measurable, actionable, realistic and time-bound.
Engage employees fully in setting goals. Employee involvement creates more commitment to follow through. Don't feel you have to mandate goals for your employees to prevent slacking. Research shows that most employees set challenging goals. Trust your employees. Treat goal setting as a dialogue rather than a top-down mandate. The goals that result will work well for you and your employees. 
Make sure each employee has the right number of goals. Three goals will work well for many entry-level jobs. A retail sales person might have goals for sales volume, customer satisfaction and maintaining a clean sales area. A new manufacturing supervisor might have goals for production, quality and cost. 
As an individual gains responsibility, the number and complexity of goals will increase. Use your goal setting conversations to lift their eyes to the new horizon. A new leader may be taking on people management for the first time. Help them set their own leadership goals. A new general manager's goals need to be cross-functional and integrative. Help them set goals on profitability, innovation or stakeholder relations.
During the year, goals allow continuous improvement. Help your employees use data to unlock their habits. Just as you should have a leadership scorecard, encourage your employees to build a scorecard with metrics for their goals. Then, you can check in periodically to help overcome any blockades to performance.
At the end of the year, use goals to review performance. If  goals have been the benchmark for performance and driver of continuous improvement through the year, the performance review should be straight forward. If an employee is not meeting their goals, you will need to manage the employee up or manage the employee out. You can focus on the required improvements, get specific about what changes are needed and (in the extreme) set a deadline for measurable improvement. However, if you lead with goals, most of your employees should be performing well. You will celebrate success together and renew the goals for next year.
Bottom line: As a leader, have a goal setting conversation with each employee at the beginning of the year. Encourage them to set SMART goals. Make sure each employee has at least three goals but not so many goals they are overwhelmed. Use their goals for continuous improvement throughout the year. And focus on performance against goals at the end of the year.
Help your employees get their goals right. If you lead with goals, your organization and your employees will benefit.
2 comments on "
Leading with Goals

"
Pingback: Images of Goals and Metrics
Leave a Reply