Coaching Yourself off the Performance Plateau
Posted Thursday, February 14, 2013
Allen Slade
A performance plateau occurs when you get complacent in your role. Feeling you have mastered the job, you slow down your personal development. The further you go in life, the more likely you are to find yourselve on a performance plateau.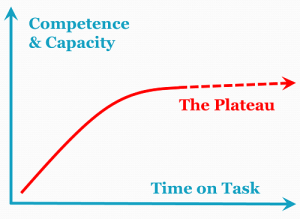 In a post on pausing on the performance plateau, I suggested how leaders can help employees grow by providing new challenges, rotating work and cultivating openness to feedback. Today's topic is even more important: As a leader, you need to watch for signs of plateauing in yourself - 3 years in role, no hunger for the next big thing, resisting change, defensive about feedback.
Has your competence and capacity grown much in the last year? If not, who can get you growing again?
Your boss may not think much about your growth. Many bosses focus on managing today's performance, not coaching for future performance.
You can try to coach yourself off the performance plateau. Be warned. Self-coaching is difficult – lack of objectivity, limited performance enhancing creativity, blame-shifting and more. That's why most elite athletes do not coach themselves.
If self-coaching or boss-coaching gets you off the performance plateau, great.  If not, call for reinforcements. Call an accredited leadership coach.
A leadership coach will help you identify growth opportunities. A coach will help you be more open to feedback. A coach will help you create mini-experiments in how to lead and perform. And, a coach will help you notice your performance plateaus in the first place, sparking your continued growth.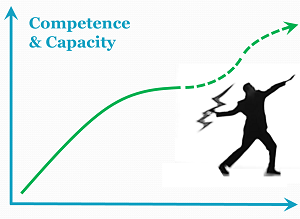 Bottom line: A leadership coach can provide the spark you need to get off the performance plateau. Then, you will grow your contributions to your organization. You will lead by example and spark your employees' growth. And you will experience more personal satisfaction.
"In this world you're either growing or you're dying so get in motion and grow." – Lou Holtz
Postscript for Senior Leaders:
Leadership coaching is not financially feasible for most employees. However, coaching has positive ROI for:
Leaders of leaders because of their current impact.
Emerging leaders because of their long-term potential.
Targeted first level managers in critical groups where failure would be costly.
Key individual contributors in high impact jobs such as sales reps for major accounts or hard to replace technical talent.
If you have a leadership coach, consider leveraging the power of coaching deeper into your organization. If you don't a coach yet, get one or risk finding yourself stuck on the performance plateau.
Leave a Reply