Too Many Goals?
Posted Thursday, May 29, 2014
Goals are powerful leadership tools. They focus attention and effort on the key accomplishments needed for organizational success. If goals are good, are more goals better? As a leader, how many goals should you set?
Basics of Goal Setting
As a leader, goal setting is an essential part of your leadership toolbox. Like any tool, you have to use goals right:
Set SMART goals. Smart goals are specific, measurable, actionable, realistic and time-bound.
Coordinate goals. Use management by objectives to ensure goals are coordinated between people and organizations.
Provide metrics. Give goal-specific feedback to further shape and refine behavior. I will discuss metrics more in my next post.
No Goals are No Good
Leadership is managing energy in yourself first and then in others. Goals help you manage energy. Goals provide a destination for efforts. They give direction and quantity for work related behaviors. If you have no goals, your own efforts will be unfocused. And if you do not set goals with your team, their efforts may be unfocused also, or their efforts may be focused on things that do not contribute to the organization's success.
Too Many Goals
Goal setting is good, but be careful. Too many goals can backfire. The key benefit of a goal is to focus energy. More goals create more focal points. Like a busy instrument panel, too many goals can confuse and distract rather than focus attention.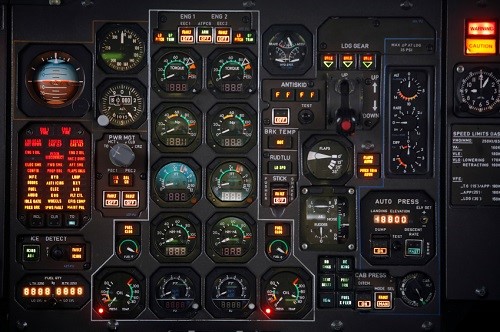 So, how many goals is too many?
More than three goals is the same as no goals. When a client asks how many goals to set, I use this simple rule of thumb as a starting point.
A simple rule of thumb is better than nothing, but principles of leadership are outdated. Here are more refined ways to think about the maximum number of goals. 
More goals with experience. An experienced pilot shouldn't have trouble making sense of a plane's control panel. An employee with years of good performance can handle more than three goals.
More goals with phased timing. If you have a complex project, a project plan might have dozens or hundreds of task goals. So long as your employee understands the project plan, the number of goals will not be an issue.
More situational goals. Some goals are relevant only in certain situations. For a retail business, you might have a SMART goal about customer wait times. If customers are not waiting, that goal is not triggered. You can have other goals about stocking or cleaning that are triggered in other situations.
In other words, the maximum number of effective goals depends on the situation your employee faces. To really know how many goals, you should have an ongoing dialogue about goals with your employees.
Goal setting. At the beginning of the performance cycle, set goals participatively. Get your employee's sense of what is realistic.
Goal performance. While the goals are in place, keep the conversation going. Get to know their work pace and their motivations. Adjust goals as needed, whether it is the type of goal, the level or the number of goals.
Goal review. At the end of the performance cycle, evaluate performance against goals. And also evaluate the goals themselves. Ask how the goals helped or hindered performance. And be open to correcting your missteps in setting goals or supporting your employee's performance. 
Throughout the goal cycle, keep the conversation going. And, make it a dialogue. Actively listen as much as you speak.
Bottom line: Know how many goals is too many. Understand the situation each employee faces and work with them to set a realistic number of goals. And, if you have created too many goals for an employee, back off. Prioritize and consolidate goals to get the right number of goals. You will help your employees focus their  attention and increase their performance.
3 comments on "
Too Many Goals?

"
Pingback: Got a Goal? Get A Metric!

Pingback: Good Goals Gone Bad

Pingback: Spoiling Good Goals with Bad Metrics
Leave a Reply