Practicing Leadership Skills in Safety
Posted Tuesday, December 2, 2014
Leaders trying out new skills can pose problems to their organization. Sometimes the new skills work perfectly from the start. Sometimes these skills create problems for the people around the leader. So how can leaders master the skills they need with minimum risk of collateral damage?
My fifteen year old son has his learner's permit. To new drivers, this permit represents a bright future full of freedom. But this new freedom requires mastering five thousand pounds of steel and gasoline hurtling through traffic. On my learner's permit, I rear-ended a parked Buick and slammed it into a Cadillac. Just like leaders in business, new drivers must master new skills with minimum risk of collateral damage.
Our teenage drivers start in a parking lot. The parking lot is a safe place to practice steering and stopping before going on the road. After a few sessions circling the lot, I up the stakes by adding orange cones and paper cups. I challenge my new driver to miss the cones and crush the cups.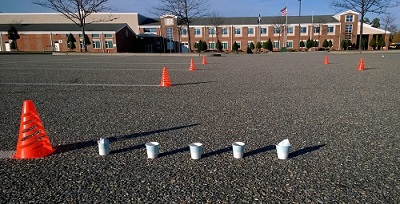 The driver accelerates to 15 miles per hour and then attempts to crush a specific cup. They get immediate feedback from the crushing sound and the view in the review mirror. They also get positive reinforcement – praise for a job done well. And, with the orange cones absorbing the punishment of right side errors, the public remains safe.
Leaders should master skills as safely as possible. A well designed leadership development program creates a safe place to practice skills. There should be immediate feedback and lots of praise for success. Failure should impact orange cones instead of actual careers.
I recently created a leadership program to help leaders manage emotions. For realistic practice, the leaders had to experience extreme emotions – fear, vigilance, exhilaration – that can hijack a leader who is driving change, challenging an unethical decision or giving a presentation.
Obviously, we would not create these emotions by putting people's careers at risk. Instead, we had participants do a high ropes course. They climbed trees, jumped into space and took a zipline across a lake. Real emotions, but in a safe environment. Practice managing those emotions, but nothing worse than freezing up while climbing or declining to jump.
How did it turn out? Every participant mastered the zipline. Almost every participant reported fear, exhilaration or other intense emotions. And many successfully used the skills taught in the classroom to manage their emotions.
The next Sunday, I took my son out driving in the parking lot. He crushed his cups too.
And no collateral damage was recorded, on the zipline or in the parking lot.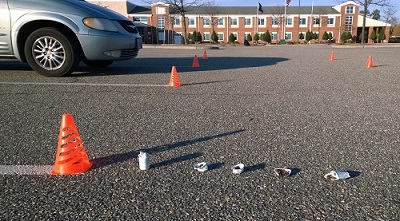 Bottom line: As a leader, take appropriate risks. Develop new skills by practicing in safety first.
Before the big presentation, practice with a video camera first, then debrief the video with a leadership coach.
Before a difficult conversation, work with your coach to get the details right.
Before a job interview, practice your stories with your circle of trusted advisors. 
Practice until you crush the cups and miss the cones. And, you won't rear-end any Buicks.
Leave a Reply