Change Intelligence: Coaches and Drivers
Posted Monday, December 15, 2014
In this blog series on change intelligence, we'll look at the styles of "coach" and "driver" today.
Change can be discouraging. Change require sense-making, and sense-making requires emotional and cognitive energy. Being deep in the performance valley increases the stress of the change.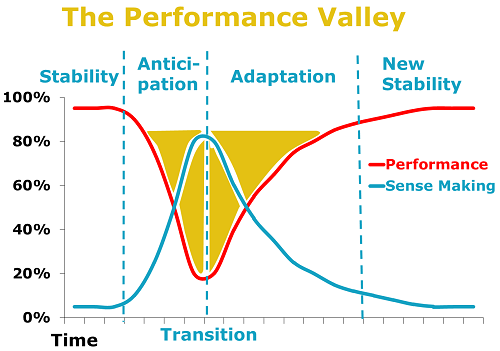 When you are deep in the performance valley of change, who walks with you? In my circle of trusted advisors, I have several people who act as change coaches. They focus on my perspective, my reactions and my feelings in the crisis. In other words, they focus on my heart.
Change Leader: The Coach
Barbara Trautlein's model of change intelligence categorizes coaches as heart-oriented change leaders. They help motivate and support others in the midst of change.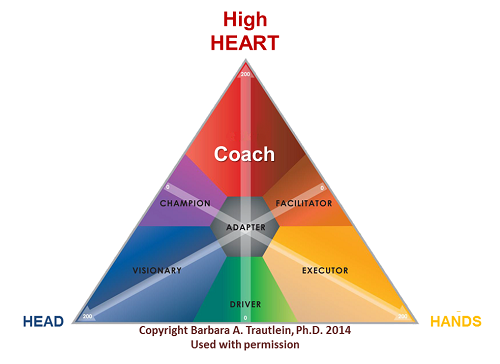 By focusing on the heart, coaches care for people. They are great to have on the team during change. They are positive, encouraging and tolerant. They often have a great sense of humor. They will go into the performance valley and keep everyone together.
However, coaches may need a little help on head. For example, they may not be communicating the vision for today's change or scanning for future change opportunities. Coaches should seek feedback from senior executives on the vision for change. And, they should be mindful of the need to analyze the future.
Coaches may also be weaker on hands. They may not have a detailed plan for the change. And, they may not hold themselves and others accountable for progress. Coaches should fill out their toolbox with planning tools. They should also set SMART goals for themselves and others.
Coaches do not have to lead change by themselves. A high-heart coach can partner with someone who is strong in head and hands.
Change Leader: The Driver
Looking across the CQ triangle from the coach, we find the driver, a change leader who is balanced on head and hands.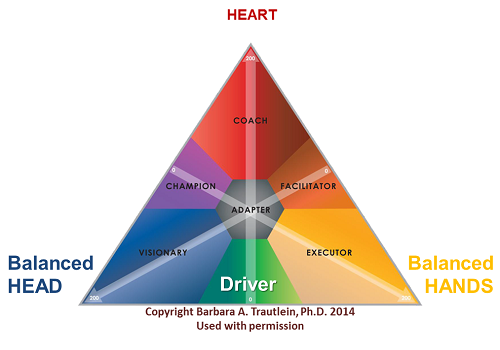 When it comes to change leadership, a driver's approach is "Just Do It". The driver is confident, pragmatic and focused. They plan the work and then work the plan. The driver's focus perfectly complements the coach's weaknesses. And, the driver's weaknesses – stubbornness, over-control, lack of listening – are compensated by the coach's focus on the heart.  These tradeoffs make the coach and the driver our first dynamic duo of change leadership.
What if the coach can't pair up with a driver to lead the change? A coach can look for two or more partners in change. You want at least one visionary or champion to provide thought leadership and at least one executor or facilitator to provide task leadership. Then, the coach's heart will be balanced with head and hands to get everyone through the performance valley of change quickly and effectively.
2 comments on "
Change Intelligence: Coaches and Drivers

"
Pingback: Images of Leadership and Change 2014
Leave a Reply