Career Coaching
A career coach will help stretch you to your best self. Your coach will help you create a career plan and pursue opportunities effectively. And, a career coach will help you hold yourself accountable for meeting your career goals.
A career coach will help you balance ability, affinity and opportunity to find the sweet sport for your career.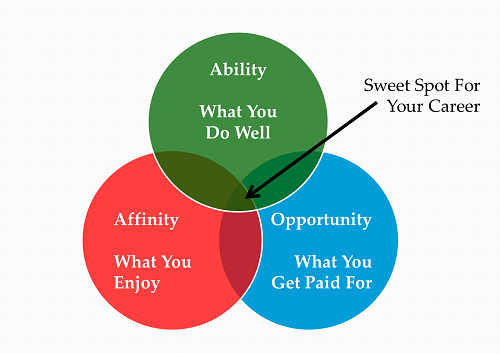 Coaches treat you as the expert in your own career, so they won't direct you down a path you don't like. They will help you find your own way. Coaches also have the ability to give gentle but powerful feedback on your plans.
When you have identified your career direction, your coach will help fill your career pipeline. Your coach helps you expand your network, generate job leads, polish your resume/LinkedIn profile, target your applications, refine your interviewing skills and make the best decisions on job offers.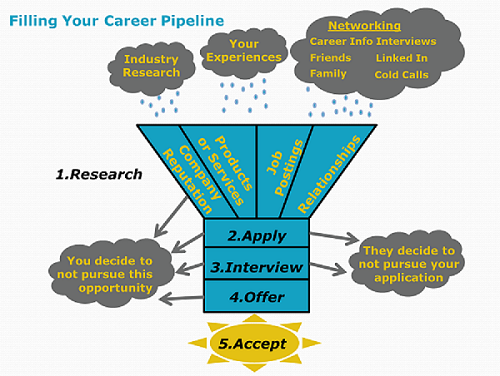 Like any professional service, fees for career coaching can be an issue. The payoff from career coaching is immense. It leads to higher satisfaction, more fulfillment and more pay. If you can afford career coaching, you will find it a worthwhile investment.
What if you can't afford career coaching? If you are a recent college graduate, see if your alma mater's career center will offer your coaching. If you are leaving a company, negotiate for career coaching as part of your outplacement package. You can also check to see what career development services are available from your state or local government.
Whatever you do, don't settle. Instead, invest in the best career coaching you can get.
---
I had the opportunity to have Dr. Allen Slade as a mentor and professional coach while attending the College of William and Mary. Dr. Slade's coaching sessions were invaluable to my personal and professional journey while at William and Mary. Dr. Slade is thoughtful, intelligent, and able to provide insight and guidance for nearly every situation. Our sessions were one on one and I always left feeling peaceful and re-invigorated about whatever situation was going on in my life. Dr. Slade provided coaching to me on my professional career path, conflict resolution, ways to work effectively in a team, and more. I would highly recommend Dr. Slade for any of your coaching needs.

Read More