Leading on Cruise Control
Posted Tuesday, February 19, 2013
Allen Slade
One of the great conveniences of driving is cruise control. You can take your foot off the gas pedal and the car maintains speed. I recently drove 400 miles in a car without cruise control – in the rain, after a long day – and I was miserable.
For leaders, cruise control is also handy. You develop a leadership style that works. You build on past success. You lead with policies, procedures and patterns. You can drive the organization with relative ease, even in the rain after a long day.
There is a minor problem with leading on cruise control. You will not lead very well. As Skinner and Sasser conclude:
Managers who consistently accomplish a lot are notably inconsistent in their manner of attacking problems. They continually change their focus, their priorities, their behavior patterns with superiors and subordinates, and indeed, their own "executive styles." In contrast, managers who consistently accomplish little are usually predictably constant in what they concentrate on and how they go at their work. Consistency . . . is indeed the hobgoblin of small and inconsequential accomplishment.
The best leaders, like the best drivers, adjust to the conditions they face. They know faster change is their only advantage, and they go slow to go fast. The best leaders can give the rousing speech, they can hold the quiet conversation and they can listen. The best leaders shift decision styles. They use the full range of leadership: direction, participation, delegation or empowerment.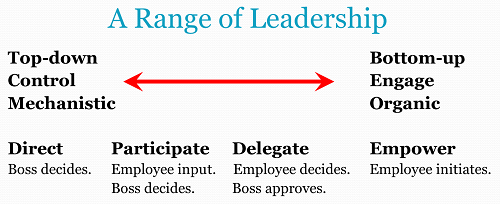 Bottom line: The best leaders do not lead on cruise control. They adjust their leadership to the needs of the moment. They are versatile. They are inconsistent in order to gain consistently great results.
How versatile are you as a leader? Do you need a greater range of speed and style? Two suggestions:
Create a leadership scorecard to unlock your habits with data and reprogram your behavior.
Find out if your organization will provide you a leadership coach or an executive coach to help you identify opportunities to increase your flexibility.
Permanently disable your leadership cruise control. Lead according to the situation. It may be less comfortable, but you will be a better leader.
Leave a Reply